The four teenage artists who spent the summer creating a mural are excited to see their artwork as part of the community's landscape. They also hope messages expressed in the artwork resonate with people.
On Rotary Drive, leading to Central Park's west entrance, a 5-foot-high and 52-foot-wide wall is covered by a four-part mural. Created as one canvas, the artwork "reflects how diversity and inclusion prompt a vibrant world," say the artists.
 
The four works are "Mother Nature," by Inez Allard; "Embrace Each Other," by Haley Brosnan; "Unity," by Eleanor Vega; and "Alive In Nature," by Tori Airo.
 
"I'm always inspired by the idea of Mother Nature being a powerful thing, and that reminded me of the area, and I wanted to portray it in a diverse way as well," says Allard. "We decided on diversity and inclusivity as a theme because of the times we're in right now. We need to be connected to the community because of COVID."
The four Spring Lake High School students had originally submitted ideas for a commissioned mural on the side of local event venue Seven Steps Up, which was won by Liv Butler, who graduated from Spring Lake last year. Their entries were so good that those submissions won them an entirely new commission.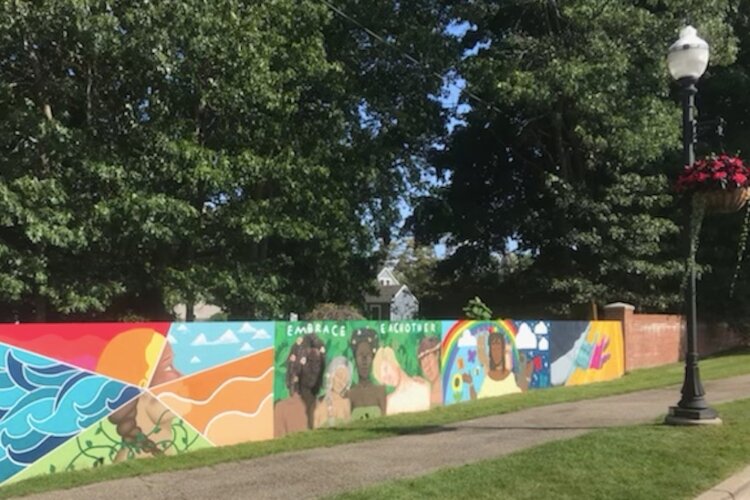 The mural is 52 feet long and is located at the west entrance of Central Park in Spring Lake.
'Inclusive and inviting'
 
The artists worked with their art teacher, Jennifer Gwinnup, to develop a new theme for the mural. They also received help from former winning artist Christi Dreese to size up their work and purchase paint. The artists were given the prompt words of "unity," "diversity," and "nature." They started working in May and finished up this month. 
"It was such a great experience," says Ario. "Even applying was exciting because I've never done anything like that before. The fact that I got to do this project is just crazy. It's so cool."
 
The theme of the mural on the wall of the performance venue was about how music and art can work together to create inclusivity. The theme for the new murals focused on coming together in diversity and inclusivity to make the kind of choices that support a diverse, vibrant and healthy world, according to Angela Stanford-Butler, director of the Spring Lake Downtown Development Authority.
 
"The village is working to become more inclusive and inviting," says Stanford-Butler. "From the chairs out on Savidge Street to our new Social District to Tanglefoot Park where we will have Universal Access (UA) for all. These murals are a part of the welcome that we're putting out there to the world."
 
The students spoke to The Lakeshore about the inspiration behind the mural, their creative journeys, and what the project meant for them.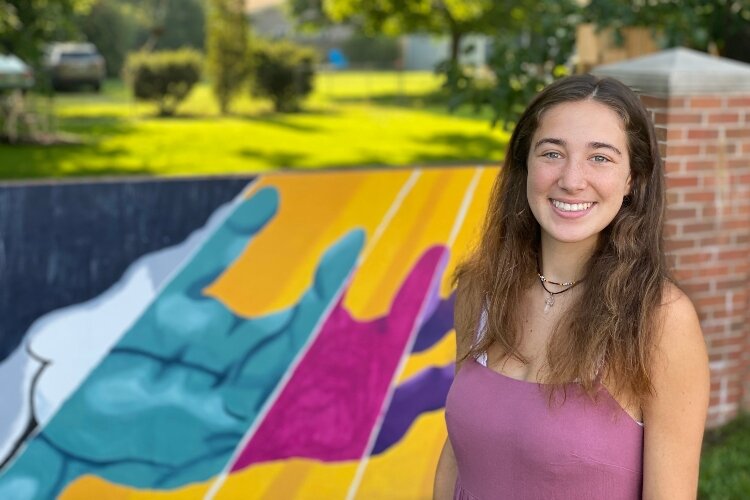 Tori Airo stands in front of the mural she created titled "Alive In Nature."
Tori Ario
Creating art in front of people was a different experience, says Ario.
"We had a lot of people who walked by with their dogs on the way to the dog park, they would stop and stare for a while, and ask about the project," says Ario. "Because we're so young, people just look so surprised that we were doing this project."
Ario says her mural is about how, during these trying times, it is often easy to find oneself stuck in constant despair or darkness because of the lack of involvement in nature. 
"The hand represents 'us' as a whole, attempting to grab the light and pull ourselves out of that darkness. The escape here is shown as sunshine to remind each viewer of the simple wonders in everyday life, such as the beauty and bliss nature provides," she says. 
Working with Gwinnup, Ario says she has been exploring new mediums, such as painting on non-traditional materials and forming three-dimensional works. She hopes to continue with the arts as she prepares to study aviation in college and pursue a career as a commercial pilot. 
"I have only made works for myself and family. Having the opportunity to make public art for my town is beyond exhilarating," she says. "My art has had a very short time to develop, and it is still finding its way."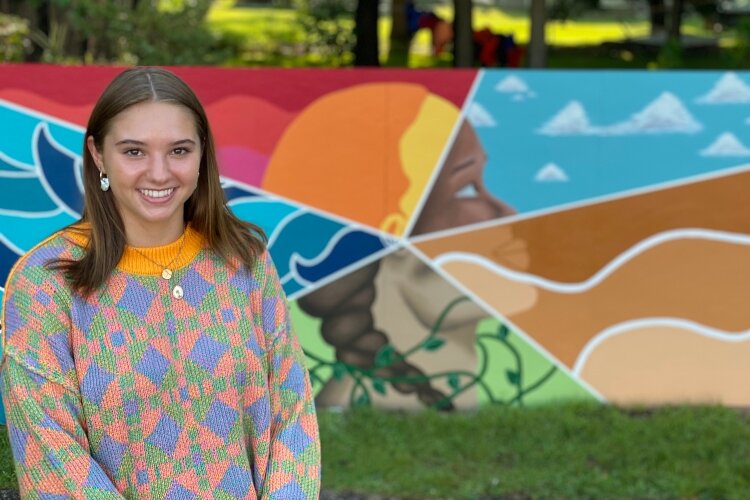 Inez Allard stands in front of the mural she created titled "Mother Nature."
Inez Allard 
Looking back, Allard is happy her idea wasn't selected for the Seven Steps Up commission. The one she created for the wall is much better, she believes.
"It just had a lot more thought into it," says Allard, explaining her portrayal of Mother Nature as a diverse being was inspired by the variety found in nature.
"Our perspective and how we relate to the environment, and the being we call Mother Nature,
changes depending on where we are or live," she says. "In Spring Lake, we are very connected to water, and watching the sunset is common for people here but, at the same time, unique and specific to where we live."
Allard has been interested in the arts for her whole life, whether it's fine art or performing arts. She remembers as a little girl sitting at her window for hours, drawing fashion sketches or creating her own picture books. She enjoyed expressing herself through dance and theater. In high school, she has taken as many art classes as possible. 
"I have always made art simply for myself," she says.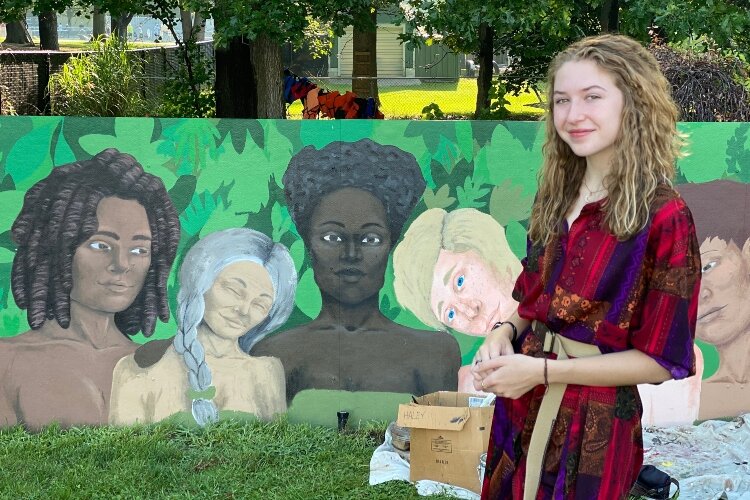 Haley Bronan stands in the front of the mural she created titled "Embrace Each Other."
Haley Brosnan
The mural was Brosnan's first artwork on a large scale. She was excited about the challenge and the opportunity to spread a positive message in the community through her art. 
"It's really exciting," says Brosnan. "I'm so happy that we get to have a piece of art that's immortalized in the place where we grew up. There's a daycare that comes down here every day, and the kids see us working on them. They have been like, 'Oh, I want to do art now.' They've talked to us about that."
Her love of art comes from her dad. He has been encouraging her creativity since she was little. Her earliest memories of making art were drawing with crayons on their kitchen floor with her dad. Together, they filled it all up by the end of every week, just to start over again the next week. 
"I continued drawing throughout middle school and later expanded to painting in high school,
which is where I really found my passion," she says.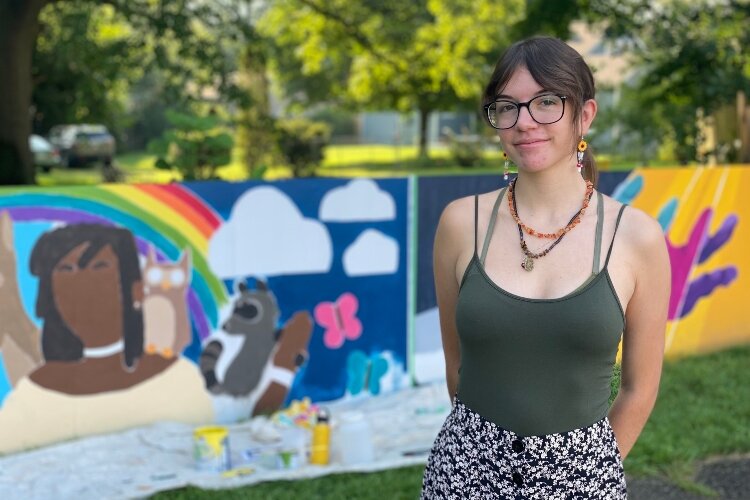 Eleanor Vega
Vega has been interested in art for as long as she can remember. When she was younger, she filled sketchbooks with little cartoon characters and comic strips influenced by her favorite television shows. 
"As I grew up, my creative influences did, as well, to include more visually sophisticated
animated films. To this day, cartoons and films greatly affect me and what I draw, with
Japanese anime playing a big role in my inspiration," she says.
She credits her first iPad for expanding her artistic horizons. Since middle school, she has been a self-taught digital illustrator working mainly for herself. She has attended summer programs through Kendall College of Art and Design, as well as several camp sessions at Blue Lake Fine Arts Camp with a focus on graphic design, printmaking, and illustration. 
She recently had her artwork published in the book The Good Life: A Matter of Choice, by Dr. Jerry Van Leeuwen. This year, she's hoping to launch her own online business creating art commissions by request. Despite her artistic talents and experience, the mural project proved a challenge.  
"I don't do big canvases, so this was definitely out of my comfort zone," says Vega. "I'm used to showing people my work, but working in front of people was a little bit different."
Her artwork, she says, is intended to illustrate the balance between nature, community, and humanity, and the overall harmony "we can experience when these things come together. In today's society, people can sometimes forget what kindness feels like and its major effects on the world as a whole. In this mural, I hope to show our community that even small kindnesses can be a big step toward peace."